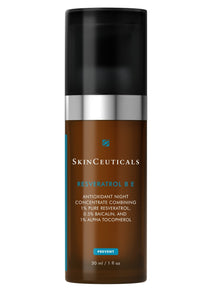 With age and ongoing aggression, skin accumulates excessive free radical damage and loses its efficiency to effectively repair at night. This compounded effect leads to accelerated signs of damage such as loss of radiance, elasticity, and density.
This antioxidant night concentrate with a maximized concentration of 1% pure, stable resveratrol, synergistically enhanced with 0.5% baicalin and 1% alpha tocopherol (vitamin E) boosts skin's own antioxidant defense system to promote its natural nightly repair for improved radiance, elasticity, and density. 
Neutralizes age-accelerating internal free radicals
Promotes skin's natural repair to diminish the visible signs of accumulated damage
Strengthens functionality to resist new damage
Use
Once in the evening after cleansing, apply 1-2 pumps to a dry face. Follow with a SkinCeuticals treatment.