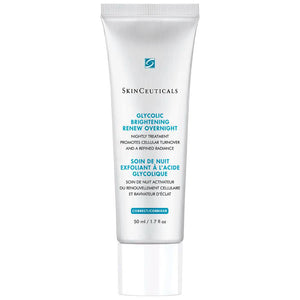 A corrective moisturizer used to promote cellular turnover and a refined radiance in aging skin.
Glycolic Brightening Renew Overnight contains an optimized level of glycolic acid tolerable for nightly use, synergistically blended with phytic acid and a soothing complex to improve texture, radiance and overall glow.
PRODUCT DETAILS:
4% Glycolic Free Acid Value
Glycolic Brightening Renew Overnight is formulated with 6% added

 

glycolic acid

 

delivering a 4% active level with a pH of 3.5. The rapid rate of desquamation stimulates new cell generation in skin, resulting in improved results all around. Skin's texture, tone, and complexion will be cared for and brighter.
2% Phytic Acid
This polyphosphate, present in legumes and seeds, has a unique molecular structure that provides extensive exfoliation, and acts as a chelating agent that inhibits iron molecules ability to catalyze free radical formation, promoting skin clarity and brightness in

 

aging skin.
1% Soothing Complex
Derived from a combination of natural oils and botanicals, including jojoba and sunflower seed, this soothing ingredient forms a protective, breathable layer over skin to help lock in hydration and provide comfort
BENEFITS:
Promotes skin clarity and brightness, while fortifying skin barrier
Hydrates while improving the appearance of skin texture and tone, revealing brighter, more youthful-looking skin
Refined texture and fine lines reduction
Dullness and uneven skin tone
HOW TO USE:
• Shake before use.

• Some skin types may require time to acclimate to glycolic acid. In these cases, precondition skin for this night cream by limiting initial use to once every other evening.

• Apply an even, pea-sized layer over entire face and neck. After one week, increase to every evening or as advised by a skincare professional.

• Avoid eye area.

• Always use with a daytime antioxidant + sunscreen.