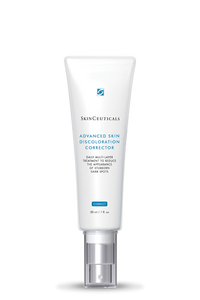 Advanced Skin Discoloration Corrector is clinically proven and tested on all ethnicities to help correct and prevent unwanted pigmentation.  This powerful multi-layer treatment is a highly effective, safe, full-facial approach to reducing stubborn discolorations and preventing reoccurrence.  In addition to its efficacy on the appearance of skin discolorations and dark spots, Advanced Skin Discoloration Corrector boosts skin tone evenness and radiance.
Fades stubborn discoloration
Enhances resistance to new pigment
Improves luminosity for renewed radiance
Ideal for all skin types
Paraben-free and non-comedogenic
Use
Once or twice daily, apply a small amount to a dry face and other affected areas, or as directed by a physician. For morning use, first apply an antioxidant serum followed by Advanced Skin Discoloration Corrector and then a sunscreen. Limit sun exposure.